Welcome to the official homepage of Wednesday Week!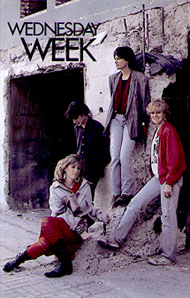 Yep, this is the official website of the band that brought you Betsy's House, What We Had and No Going Back.
Wednesday Week will be playing a reunion show on Tuesday, January 14, 2014, at The Troubdour in West Hollywood, CA. The performance will be part of the Earle Mankey Appreciation Night, which will also include performances by The Long Ryders, The Pop and Kristian Hoffman. The lineup with be Wednesday Week #7, the classic lineup featuring Kristi Callan (guitar, lead vocals), David Nolte (lead guitar), Heidi Rodewald (bass, lead vocals), and Kelly Callan (drums).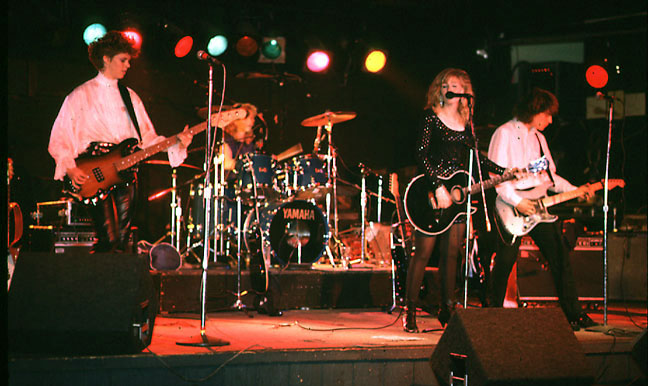 What We Had has been reissued on CD on Noble Rot Records (a subsidiary of Collector's Choice Music), with the Betsy's House EP included (the first time Betsy's House has been available digitally!) and more (23 tracks, total!). You can order it at Amazon or Collector's Choice.
Wednesday Week has a Facebook Group that you can join. Also, Narrow Adventure has page on MySpace. Click here to check Narrow Adventure out and download some music.
WarfRat Tales, the legendary 1983 compilation of LA bands that introduced Wednesday Week to the world, has been issued on CD for the first time and it has lots of extra tracks and bands. WarfRat Tales (Unabridged) features two Wednesday Week songs never before on CD. It's available at the Avebury Records website, as well as at the Bomp Store, CDBaby, and Amazon.
Kristi has a band—Dime Box! Kristi is the lead singer and plays guitar.
Heidi Rodewald has been On-Broadway, earning Tonys! Now she's Making It.
Kelly Callan has a record label—Avebury Records. Check it out for an amazingly eclectic collection of good music. Artists on the label include Dime Box Band (featuring her sister, Kristi!), Tom Stevens (former Long Ryders and Magi bassist), Fallopian (from Santa Monica, CA), The Studiofix (from Orange County, CA), Stereotactic (from Bakersfield, CA), Twinkie (from Derby, UK), Andrew (pop genius from LA), The Get-Outs (from Bristol, UK), Kjehl Johansen (former Narrow Adventure/Wednesday Week member), The Mighty Stars (from Bristol, UK), Action Now (archival early-'80s garage powerpop featuring pre-Lucky Mike Lawrence and pre-Pandoras Paula Pierce) and Battery Life (with Lucky member Mike Lawrence!).
Departments
Click here to subscribe to the Wednesday Week announcement e-mail list to find out about major updates to the site or any other Wednesday Week news.



+

Last modified: 5.13.10